North Carolina Road Map
---
The scalable North Carolina map on this page shows the state's major roads and highways as well as its counties and cities, including Raleigh, the capital city, and Charlotte, the most populous city.
Blue Ridge Parkway near Grandfather Mountain in Western North Carolina
North Carolina Map Navigation
To display the map in full-screen mode, click or touch the full screen button. To zoom in on the North Carolina state road map, click or touch the plus (+) button; to zoom out, click or touch the minus (-) button. To scroll or pan the zoomed-in map, either (1) use the scroll bars or (2) simply swipe or drag the map in any direction. (The scrolling or panning method you use will depend on your device and browser capabilities.) At any time, you can display the entire North Carolina road map in a new window or print this page, including the visible portion of the map.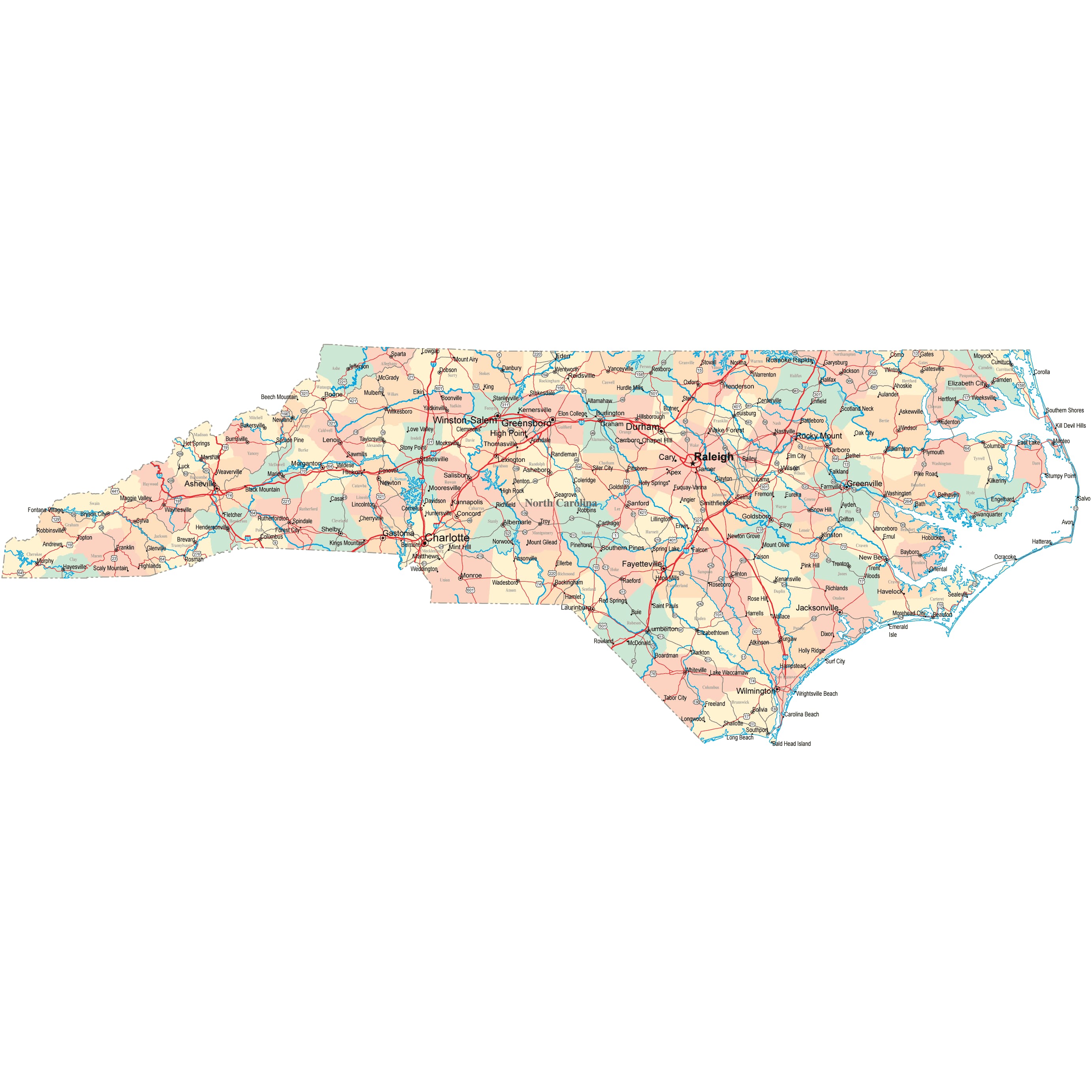 The following Map Legend and Scale of Miles apply to the road map on this page, at its largest displayed scale.
North Carolina Map Legend
North Carolina Map Scale Of Miles
North Carolina Interstate Highways
North Carolina's Interstate Highways connect its major cities and facilitate travel between North Carolina and its neighbors. I-40 traverses North Carolina from east to west, while I-77 runs from north to south through western North Carolina. I-85 crosses the state from northeast to southwest, and I-95 carries vehicular traffic between the north and south in North Carolina's coastal plain region.
North Carolina's auxiliary Interstate Highways serve the state's metropolitan areas. I-140 connects Wilmington's northern suburbs with I-40. I-240 provides access to downtown Asheville from I-26 and I-40. I-277 provides convenient access to downtown Charlotte from I-77, and I-485 encircles Charlotte. I-440 encircles central Raleigh, while I-540 provides easy access from I-40 to Raleigh's northern suburbs.
North Carolina Scenic Routes
The 469-mile Blue Ridge Parkway connects North Carolina's Great Smoky Mountains National Park with Virginia's Shenandoah National Park. This parkway is one of the more scenic drives in the state, offering sweeping views of misty mountains and valleys that are best appreciated from the Buena Vista Overlook on the northern end. Stop at Mabry Mill for woodcarving, blacksmithing, and milling demonstrations, and the Cumberland Knob Recreation Area for a picnic. The Moses H. Cone Memorial Park has a shop specializing in textile crafts, and the Linville Falls cascade spectacularly into the deep Linville Gorge. At the eastern end of the state, North Carolina Route 12 traverses the coastal Outer Banks region, including Cape Hatteras National Seashore. Move information about scenic roads in North Carolina is available on these America's Byways: North Carolina and North Carolina Scenic Byways pages.
North Carolina Road Travel Resources
For more information about North Carolina's roads and transportation infrastructure, visit the North Carolina Department of Transportation website. For North Carolina road traffic conditions, visit the Federal Highway Administration's North Carolina Traffic Information page.
---
Copyright © 2005-2023 State-Maps.org. All rights reserved.
North-Carolina-Map.org is a State Maps reference source.

North Carolina Road Map
North Carolina Travel Map - NC Highway Map